DEL­VIS sp. z o.o. was established in January 2006 after the transformation of the civil partnership company under the same name.
The origins of the company can be traced to 2003, when we became the pioneers of cigarette tubes production in Poland. We purchased our first cigarette tubes production machine in England, however, the demand for our products at that time was so vast that we invested in hiring mechanical engineering experts. The aim was to build production machines adjusted to our needs and this, in turn, allowed us to meet the ever increasing demand from customers and open new sales markets. More and more European companies were becoming our business partners.
This trend continues today. The increasing demand in real terms and financial stability allowed us to implement further investments. Our priority was to build new storage and production halls, modernise the existing ones and, most importantly, optimise working conditions for our employees. The company's development is strictly connected to the increasing number of employees. Soon, we are planning to build a new production hall and implement further investments.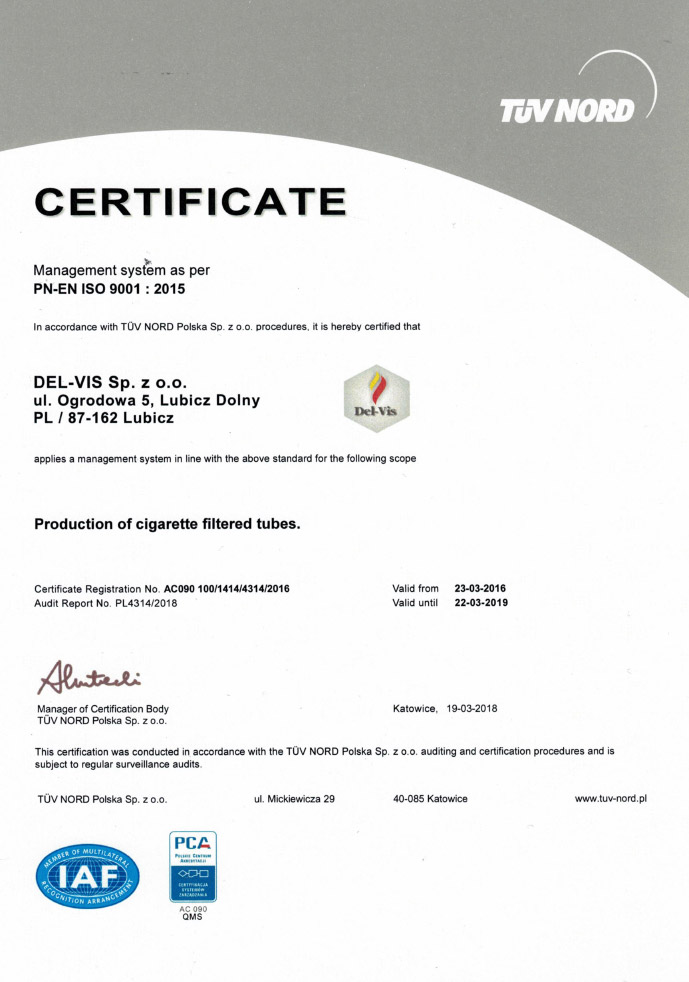 In March 2016, in order to maintain the highest quality of our product and meet our customers' expectations in the best possible way, we successfully passed the certification process in our company in regards to management system according to PN-EN ISO 9001.

ISO 9001 is the standard accepted and recognised across the world. The certificate below proves our company meets international requirements related to proper quality managing.
Despite the growing competition on the market, we are still the leader of our industry. In order to satisfy different requirements of our existing and potential customers, we constantly improve our management system which allows us to meet their expectations related to the strictest standards. It is worth noting that among our recipients there is a large group of the largest players in the tobacco products distribution industry as well as many retail chains. Despite the dynamic growth of the company, we still promote it. This is why we are happy to take part in prestigious tobacco products fairs in cities such as: Cracow, Dortmund, Prague, Paris, London, Dubai or Las Vegas.
Our effort in company development has been appreciated in the form of many prestigious awards, i.e.:
the title of "Gepard Przemysłu" - (The Business Cheetah) — 495th place among 50,000 companies in Poland in 2008-2010 in the ranking by "Europejska Firma" (European company) Entrepreneurs Magazine
the laureate of "Gazela Biznesu" (The Business Gazelle) ranking in 2012 at 2120th place, however, already 336th place in 2014;
"Menadżer Firmy 2013" - (2013 Company Manager) ranking — the Chairman of our Company was listed among 500 best managers;
We have also been recognised by Forbes magazine as the laureate of Diamenty Forbsa (Forbes Diamonds) and we found ourselves among the most profitable companies in Poland.
Despite the ever-growing competition, our product is still considered to be the best. This is a result of many factors, one of which is the quality of our cigarette tubes. To produce our cigarette tubes, we use only highest quality materials, with all approvals, and from our home European as well as American markets. We focus not only on the quality of the materials used, but also on the appearance, quality and functionality of both, our cigarette tubes and the packaging. We are very flexible as far as the requirements of our existing and potential customers are concerned, i.e. we are able to manufacture a product under a particular brand at a customer's request.